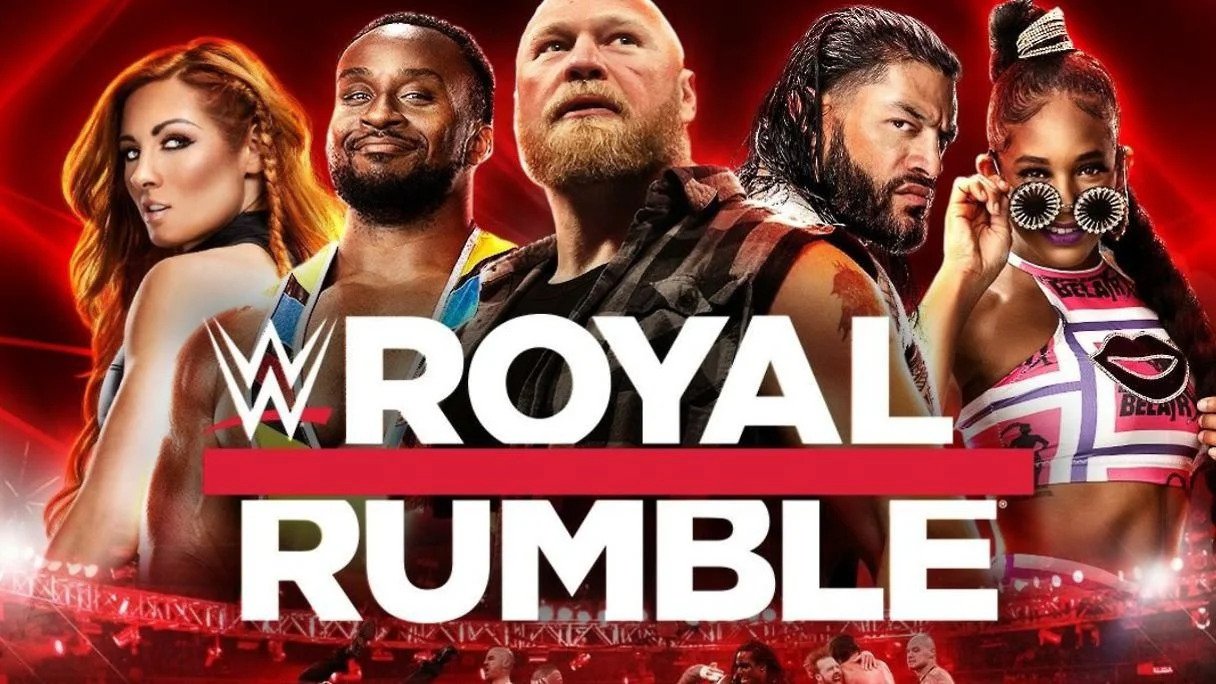 Three…
Two…
One…
BUZZ. LET'S DO THIS. Royal Rumble 2022.
Men's Royal Rumble
(Confirmed at time of writing: Angelo Dawkins, Montez Ford, Rey Mysterio, Dominik Mysterio, Austin Theory, Sheamus, Johnny Knoxville, Damian Priest, AJ Styles, Big E, Happy Corbin, Madcap Moss, Sami Zayn, Kofi Kingston, Kevin Owens, Omos, Randy Orton, Riddle, Chad Gable, Otis, Dolph Ziggler, Robert Roode + 8 TBC)
I've said it before, but I do love a Rumble. It's the unpredictable nature of it all – the best Rumbles are always the ones where the winner isn't sign-posted a mile away. It's not quite a "anyone could win" year, but there's a few options to choose from and – for betting purposes – this means the favourites are getting better odds than you'd normally get.
At time of writing, the bookies can't call it between the two favourites – with both Big E and Drew McIntyre tracking at 9/4. This does mean you could back both and make a profit providing that one of them wins (£40 on both will give you a net spend of £80 but a win of £130 and a tidy £50 profit). The bookies obviously can do math though, so what's stopping this from being an obvious bet?
It's the World Title picture that is causing all of the confusion – or rather – the World Title picture(s). It's long been rumoured that Wrestlemania will have Brock vs Roman but with both holding gold, and a title for title scenario seeming unlikely in a 2-night Wrestlemania – what happens here? Well, it could that Brock or Roman lose their title match (most likely Brock) and then enter the Rumble and win it. Brock is the third favourite at 5/1 meaning this is definitely a possibility.
My gut though says we get the title change for Brock in Saudi at the "Wrestlemania Chamber" and that the Rumble winner will face whoever wins that match. If it's Drew or Big E, then I'll pick Big E – he needs it most after dropping the belt to Lesnar and Drew won 2 years ago. But don't rule either out, and the odds make for interesting betting options.
Prediction: Big E
Women's Royal Rumble
(At time of writing: Rhea Ripley, Nikki ASH, Dana Brooke, Carmella, Queen Zelina, Tamina, Shotzi, Natalya, Aliyah, Naomi, Shayna Baszler, Charlotte Flair, Nikki Bella, Brie Bella, Lita, Michelle McCool, Kelly Kelly, Summer Rae, Mickie James, Bianca Belair, Liv Morgan + 9 TBC)
The women's rumble tells a similar, but different story. There's a number of people who *could* win, but the story is more about one person. And that person is Ronda Rousey.
If the former women's champion, gold medallist and UFC Champion returns AND ENTERS at the Royal Rumble then she is an absolute lock for it. The bookies have her at 5/6 and a heavy favourite – I'd imagine the odds would be even shorter if we knew she was definitely in the Rumble.
But why did you say "AND ENTERS" in such garish block capitals I hear you ask dear reader? Because, there's a chance that Rousey returns at the Rumble, but not IN The Rumble. If Becky Lynch beats Doudrop, then there's a real possibility that Joan Jett hits and Rousey comes out, points at the sign and attacks Big Time Becks (still should say "Bex"). Then Mania is Rousey vs Lynch and The Rumble Winnner vs the Smackdown Women's Champion (who is – for some reason – i.e. because she's Charlotte Flair – in The Rumble?).
With Charlotte being in The Rumble, I think whoever eliminates her both wins The Rumble AND faces her at Mania (if it's not Rousey) so I think a good bet will be a returning Bayley. She's the 5th favourite at 9/1 (same odds as Paige, and with Bliss & Belair at 7/1 and 4/1 respectively).
If Rousey isn't in the Rumble, then these odds will drop QUICK so it could be worth a bit of a gamble on any of them. But Bayley seems the best.
Prediction: Bayley (if Rousey isn't in the Rumble)
WWE Championship
Brock Lesnar © vs Bobby Lashley
This is a strange one odds wise, as the aforementioned short odds for Lesnar to win The Rumble, suggest that the bookies recognise he could lose here and then enter the Rumble – but the odds for this match suggest that "The Beast" is a lock to retain.
Lesnar is currently 1/2 against 6/4 for Lashley. And this is a match that actually fans have been waiting for a very long and you have to think it's more fate than design that has kept them apart so long (Lashley and Lesnar started with WWE in the early 00's, but Lashley only debuted after Lesnar left to be a Viking and then was gone by the time Brock returned)
It's a Big E BMMBM Special (Big Meaty Men Bumping Meat) and given that the two are accomplished MMA fighters, everyone should be hoping this is a short and violent match. If WWE ever wanted to do "Shibata vs Ishii" then this is the match to do it in. Just let them batter each other.
As mentioned earlier, I don't think Lesnar is in the Rumble so will likely win here. There's also a "safer" place for him to drop the title next month in Saudi and for a wrestler as protected as Lesnar, it feels a good bet. The Beast retains here in under 10 mins.
Prediction: Brock Lesnar Retains
WWE Universal Championship
Roman Reigns © vs Seth "Freakin" Rollins
I'm actually surprised that the odds for Rollins are so short here – you're currently only getting 15/8 and given the length of the Roman title reign (no pun STILL intended) I just don't see it ending at The Rumble. I honestly think Roman could hold it for literally years yet as with big title reigns it's as much about who ends it – and I just don't see anyone who it should be. Roman should beat Lesnar if that's the match at Mania too.
Even with short odds for Seth, Roman is the heavy favourite here (4/11) which makes me think that – like the Lashley/Lensar match – there's a (smaller) suspicion that Roman loses to Seth here and then wins The Rumble to set up Roman/Brock that way.
It's an awkward place to do a heel vs heel match (which is even more of a reason that Seth doesn't win here) so I'm expecting a bit of a smoze with Uso related banter but the result doesn't change. The Big Dawg marches on to Wrestlemania.
Prediction: Roman Reigns Retains
WWE RAW Women's Championship
Becky Lynch © vs Doudrop
Prior to looking at the odds for this, I actually thought that Doudrop could be a potential winner here. Their backgrounds in the UK & the former Viper doing a bang-up job on RAW gives thought that not only could Doudrop win, but that it would really give a boost to her AND be a result that Becky Lynch could be ok with.
However. Becky Lynch is currently a 1/10 favourite so you'd be crazy to bet anywhere else. Doudrop is currently 5/1 (which is much longer odds than Rollins to beat Reigns which I don't think has a chance of happening) so if she does win, then the bookies would be very, very surprised.
The rumours of Ronda Rousey is impacting on the odds too. If Rousey is at 'Mania, then Lynch is sure the direction she goes – and a World Champion Becky Lynch in particular. This gives an extra impetus to the idea that Becky will retain here.
Losing can be a boost too – if done in the right way – so hopefully even if Lynch retains, then this match also gives a boost to Doudrop's overall standing further down the line and a possible World Title reign after Mania.
But the odds can't be ignored here. Becky wins.
Prediction: Becky Lynch Wins
Edge & Beth Phoenix vs The Miz & Maryse
The Edge-Phoenix's are the favourites here (3/10) and the Miz-Maryses are actually quite a far shot at 11/5. This was another one that surprises me and I'm going to go against the bookies and back a Miz and Mrs win.
I think that Edge / Phoenix are the favourites as it's the return of Beth to the ring and Edge has been well protected since his return. However, with Edge having won on the last PPV meeting between the two, it really makes more sense for Mizzzes to get the W here. In fact, with nothing obvious for either before Wrestlemania, a Miz win will extend the rivalry – especially if it involved some HEINOUS ATTACK on Phoenix.
I'd imagine both Miz and Edge will be in the Elimination Chamber too, so there's plenty of room for this feud to continue. IF it's going to, then Miz really needs a win here.
Prediction: The Miz & Maryse
These are our predictions. What are yours? Please leave them in the comments!